Hand in Hand Goes Back to School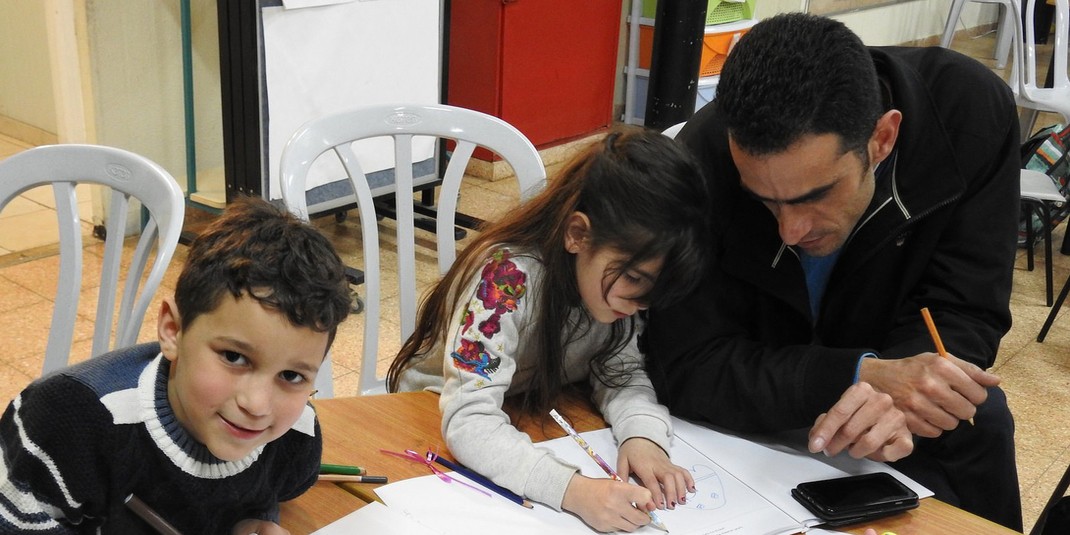 Happy first day of school! Today, six Hand in Hand schools welcomed nearly 2,000 Jewish and Arab students back for the 2018-2019 school year. From our first campus to our newest school, students and teachers were beyond excited to begin the new semester.
One of the most exciting events of the day, however, was the inauguration of our new first grade class in Kfar Saba—the first mixed elementary school in its area.
Two of the school's brand-new first graders are old friends; Rama is from the Arab town of Tira, and Alona is from the Jewish town of Sde Hemed. They've known each other since they were three years old, and were full of anticipation for what first grade could bring.
Rama said: "I'm excited to go into first grade where I will learn how to read, I want to be a scientist like my mom!" And Alona added: "I was so excited to come to school today, and it's special here because we learn with Jews and Arabs together. It's fun!"
Meanwhile, at Hand in Hand's Galilee School, second graders Rotem, Omer, and Raja gave the school's incoming first graders a pep-talk:
"You are probably excited and nervous right now, but we, the second graders, promise you that there is nothing to be scared of. You should know that it is really fun to learn how to read and write, and it makes life a lot easier. Sometimes it's hard to learn Hebrew and Arabic, but you will get the hang of it. We wish you a good year in first grade and hope you make new friends. We promise that the second graders will help you with whatever you need, just ask us. Welcome!"
In Jerusalem, high school principal Arik had a message for the school's 12th graders as they began their last year of school:
"As we start the year, we are going to have to talk about hard things. About inequality and the Nation-State law, about what isn't right in the society we live in…  The strength of each one of you is that you choose to be an active member of society. While your activism will grow more complex with the years, you are already courageous and making a difference just by being here. We are here to learn and to do, to critique and to question. This is our mission. I hope it will be a year of learning, inspiration, and asking many questions. Together we can create real change."
Words to live by. We wish all students, teachers, and families a happy, productive, and meaningful new school year!