New Second Language Spoken Arabic Curriculum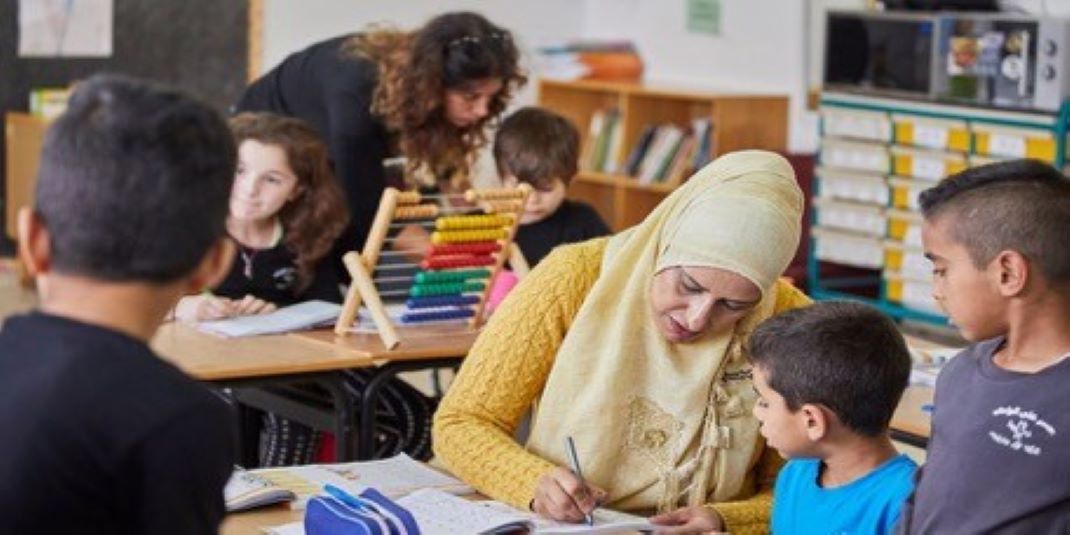 Bilingualism is a core pillar of Hand in Hand's work. Hand in Hand's pedagogic staff work closely with teachers on improving our students' second language acquisition skills. Because Hebrew is the dominant language in the country, and is required for social mobility, Arab students are able to learn Hebrew at a faster pace than Jewish students learn Arabic. Another factor which makes learning Arabic more difficult, is the fact that spoken Arabic and written Arabic are in essence two different languages.
By ensuring that our Arab students learn to speak fluent Hebrew, and that our Jewish students learn to speak fluent Arabic, we are relaying the message that both languages, both identities and both cultures are of equal status. A July 2018 Report on "Learning Arabic Within the Israeli Educational System" noted:
"Knowledge of Arabic is essential for creating dialogue between equals and symmetry in the relationships between the Jewish majority and the Arab minority."
Israeli schools that teach Arabic to Jewish students focus on literary Arabic; as a result only a small percentage of Jews learn spoken Arabic. No curriculum in Israel existed for teaching spoken Arabic as a second language in an integrated and bilingual environment, so Hand in Hand developed our own methodologies. Our Education Department is presently codifying our years of practices and writing a field-tested curriculum that will run from preschool through grade 12.
The first grade curriculum, complete with detailed lesson plans and activities, was completed and distributed to our Principals this week!
By emphasizing bilingualism we equip young adults to embrace and nurture equality between Jews and Arabs:
On a 2020 survey, 88% of our alumni reported that their knowledge of the other's language had a significant positive impact on their perspective of the other.